Updates from the Fundraising Committee
What's Team Alleghenies Transplant Up To?
Team Alleghenies Transplant runs various fundraisers throughout the year to help support the team's goals and to help raise money to support our athletes for the Transplant Games of America that are held every other year. Below are some of the current and on-going fundraisers that we have going!
Got an idea for fundraising? The Fundraising Committee would love to hear from you! If you have questions or suggestions, send an email to:
Fundraising@teamalleghenies.org
and a member of the Fundraising Committee will get back to you as soon as possible. Please include a telephone number!
WPA Kidney Support group is taking donations of $15+ and giving donors buttons, bumper stickers and a t-shirt for each donation!
The proceeds will be split between the WPA Kidney Support Group and Team Alleghenies Transplant!
Contact Jack Silverstein for more information or to donate!

T-Shirt Table Sales are on hold due to lack of support and volunteers to run the tables.
This is our number one fundraiser- raising more than half of our funds each year!!
If you can commit to assisting with this PLEASE contact the team Secretary at
or the Fundraising committee at
Fundraising@teamalleghenies.org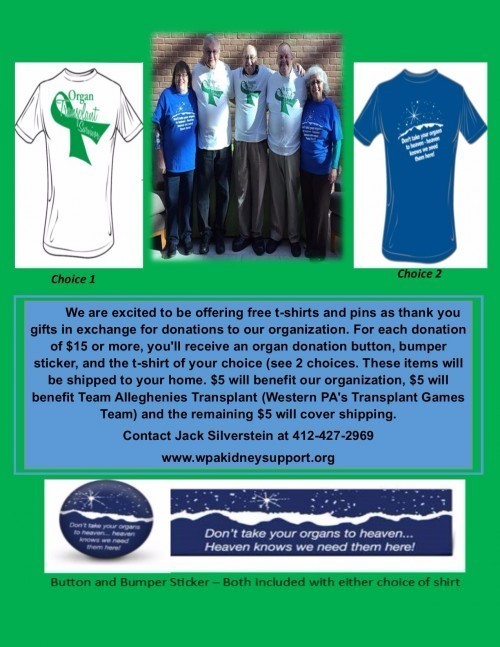 Use the form below to submit your suggestions for any fundraisers you'd like to see the team do! The Fundraising Committee will review your suggestions and contact you!